2021年8月29日 整備を行いました
茨城県北ロングトレイル協力隊を中心とした参加者で、長福山を整備しました。
いつもの草刈りに加えて、眺望をつくったり、ステップをきったり、
谷に散乱した倒木を除去したりと様々な作業を手分けしておこないました。
男体山に対して女体山とも呼ばれる長福山。
整備したことで、山頂からは男体山がばっちり見えます◎
ぜひ開通を楽しみにしていてください。
コース整備(2021年8月29日)
This time, 23 cooperative members
participated in the event.
I was worried about the rain,
It seems that it can be maintained
in the weather.
From this maintenance activity
Maintenance / utilization leader outdoor
training ① has started.
This time, 12 leader trainees are participating.
Divide into 2 groups and head to
the maintenance site.
Maintenance has started.
From the men's shrine, walk down
the valley.
Fallen trees are scattered by rain
and typhoons every day,
The vegetation grows vigorously,
I can't see the destination well.
There was also a dead red pine tree.
Sasa extends from both sides of
the mountain trail,
I can't walk comfortably as it is.
It is the summit of Mt. Chofuku.
The scenery is not good because of
the branches and leaves of the trees.
It was such a view at another peak.
The steep slopes are slippery.
Mow the vegetation on both sides of the
trail as usual.
Children also use pruning shears well,
He did his best until the end.
Where the overgrowth of vegetation
is terrible I also use a brush cutter.
After weeding, carefully collect the grass
with a rake.
Use a small chainsaw to secure the view
The shrubs were carefully cut down.
Wear a helmet,
Work on slopes with caution.
The felled trees are
Carry it out of the trail.
| | |
| --- | --- |
| | |
| Cut the steps with a hoe and | Firmly step on with your feet. |
The soil of Mt. Chofuku has a large
proportion of gravel.
For cutting out and compacting steps
I had a hard time.
It is a state after maintenance.
The mountain trail in the thick valley
It was so refreshing.
Fallen trees are also cut and
removed cleanly, It's easier to walk.
The fallen tree of Japanese red pine
that was blocking the mountain trail
It's gone clean.
There are no sasa on both sides of the
mountain trail,
You can now walk comfortably.
From the top of the mountain where I
couldn't see anything you can now see
the mountains in the distance.
On the rocky vertical runway from
Mt. Tsukiore to Mt. Nantai
you can see it in front of you.
Thanks to the steps on steep slopes
You can walk with confidence.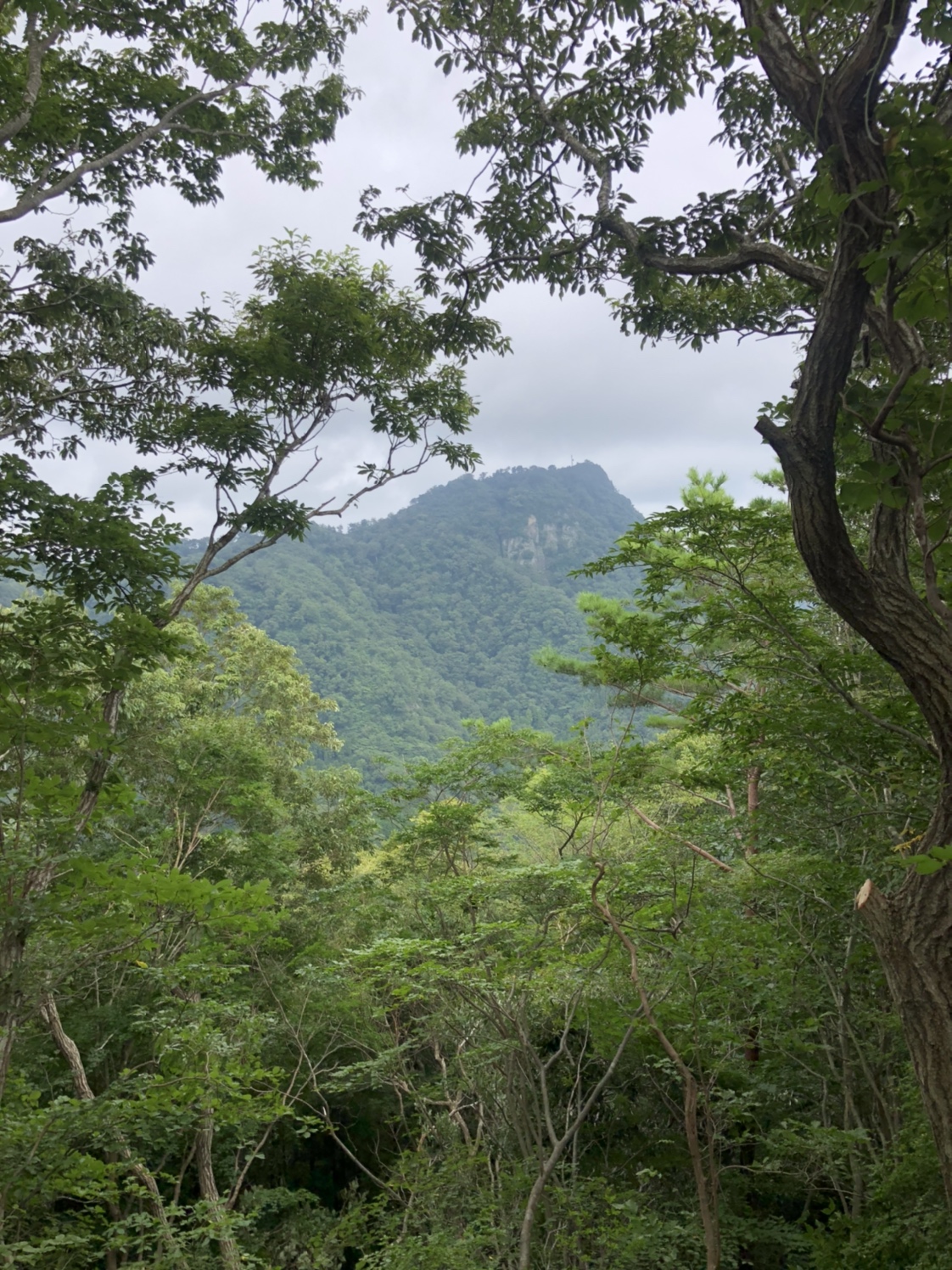 From the summit of Mt. Chofuku, you can see Mt. Nantai.
Thank you to all the members of the cooperation team.
この投稿文は次の言語で読めます: 日本語 (Japanese)