You can participate without maintenance tools. Would you like to experience making a mountain trail?
We will maintain a portion of the Ibaraki Kenpoku Long Trail scheduled to open by weeding and collecting weeds.
When you hear the word "maintenance activity", you may think of difficult and difficult work, but you can enjoy the work as if you were leisurely. No prior registration of the cooperative team is required. Please feel free to join us!
Event details
Date & Time: Sunday, June 26, 2022, around 9:00 a.m. to 4:00 p.m.
Location: Ibaraki Kenpoku Long Trail scheduled to open (details to be announced at a later date)
What to bring: Mainly human-powered weeding, collecting weeds, and clearing land.
・ Maintenance tools that are considered necessary
Pruning shears, rakes, saws
Appropriate clothing for maintenance, shoes, gloves, hat
・ Rain gear top and bottom
・sunglasses
・ Winter clothes
・ Moisture, action food, lunch
・mask
Capacity: First 30 people
Participation fee: Free
Application deadline: Sunday, June 19, 2022
* Applications will be closed as soon as the capacity is reached.
* Details of the day will be sent to the registered e-mail address at a later date.
Please note:
Please cooperate with the questionnaire at the end of the event.
▼ Please apply for participation from here ▼
▼ You can see the state of maintenance activities so far from here ▼
We look forward to your participation!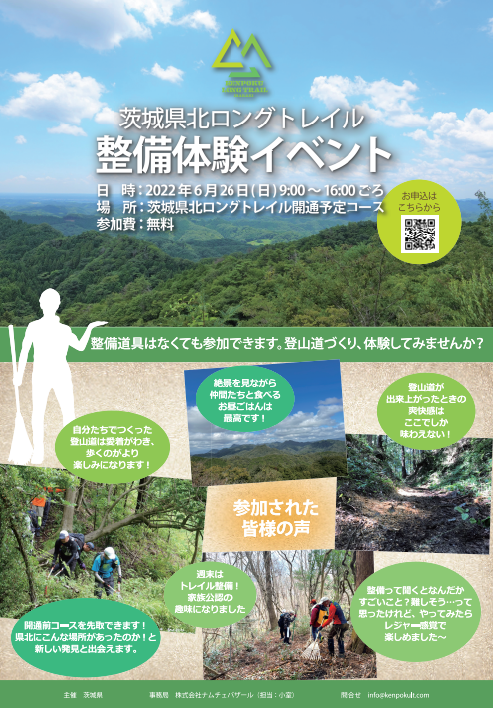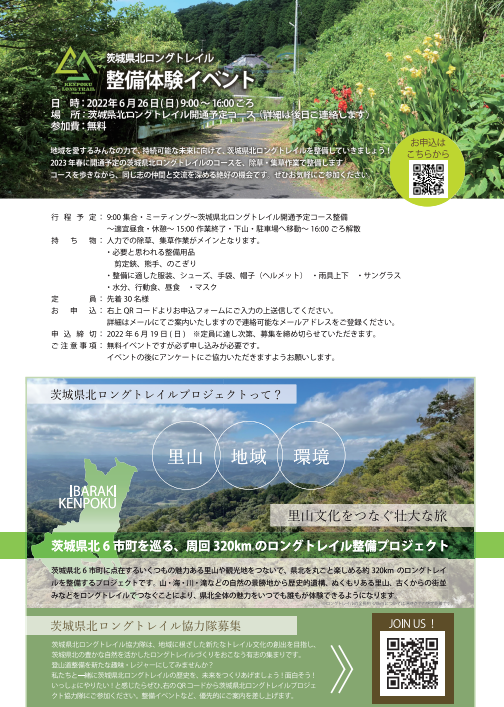 この投稿文は次の言語で読めます: 日本語 (Japanese)