[Full thanks]
We have closed the application for this event because we have reached the capacity.
Thank you for many applications.
We will continue to hold events on the North Long Trail in Ibaraki Prefecture,so please look forward to it.
We look forward to your continued support of the Ibaraki Prefecture North Long Trail.
Let's enjoy the autumn of Okukuji on the north long trail in Ibaraki prefecture
Let's enjoy the autumn colors of the satoyama in the town,on the long trail in the north of Ibaraki prefecture!
Enjoy a 360 ° panorama at Namasefuji! You can meet a superb view overlooking the scenery of the autumn satoyama.
At the waterfall peep where your feet are frozen for a moment,you can look down at Fukuroda Falls,which runs down the trees dyed in red and yellow.
Enjoy a hike on the Ibaraki North Long Trail to the adventurous crossing point.
After enjoying the autumn village mountains to the full,lunch time at a nostalgic mountain lodge with the atmosphere of the Showa era.
It's perfect with freshly baked apple pie and freshly brewed coffee,which you can't easily taste.
Event details
Date and time:Saturday,October 23,2021 from 8:00 to 16:00
Location:Ibaraki Prefecture North Long Trail (around Fukuroda,Daigo Town)
Number of applicants:First 20 people
Participation fee:2,500 yen (including insurance)
Application deadline:October 17,2021 (Sun)
* Applications will be closed as soon as the capacity is reached.
* Details of the day will be sent to the email address entered in the application form at a later date.
Itinerary:
8:00 Fukuroda No. 2 Parking Lot Meeting
-Ibaraki Prefecture North Long Trail Opening Course Walk (Namasefuji Trailhead-Namasefuji-Waterfall Peep-Watashi Point)
-Lunch-Course walk (Fukuroda Nature Exploration Road-Fukuroda Falls Shopping Street)
~16:00 Dissolution
Belongings:
・ Clothing suitable for hiking,shoes,hats,rain gear top and bottom,moisture,action food,insect repellent products,masks
・ Lunch (You can enjoy dessert and coffee at lunch)
Cancel:
The following cancellation fee will be charged for cancellation after the application is confirmed.
Up to 1 week before the event/No cancellation fee 6 to 3 days before the event/20% of the participation fee
2 days before to the day before the event/50% of the participation fee Cancellation on the day/Absence without notice/100% of the participation fee
Precautions
Please note that this is a monitor event and you will be asked to complete the questionnaire at the end of the event.
▼ Please apply from here ▼
We look forward to your participation! !!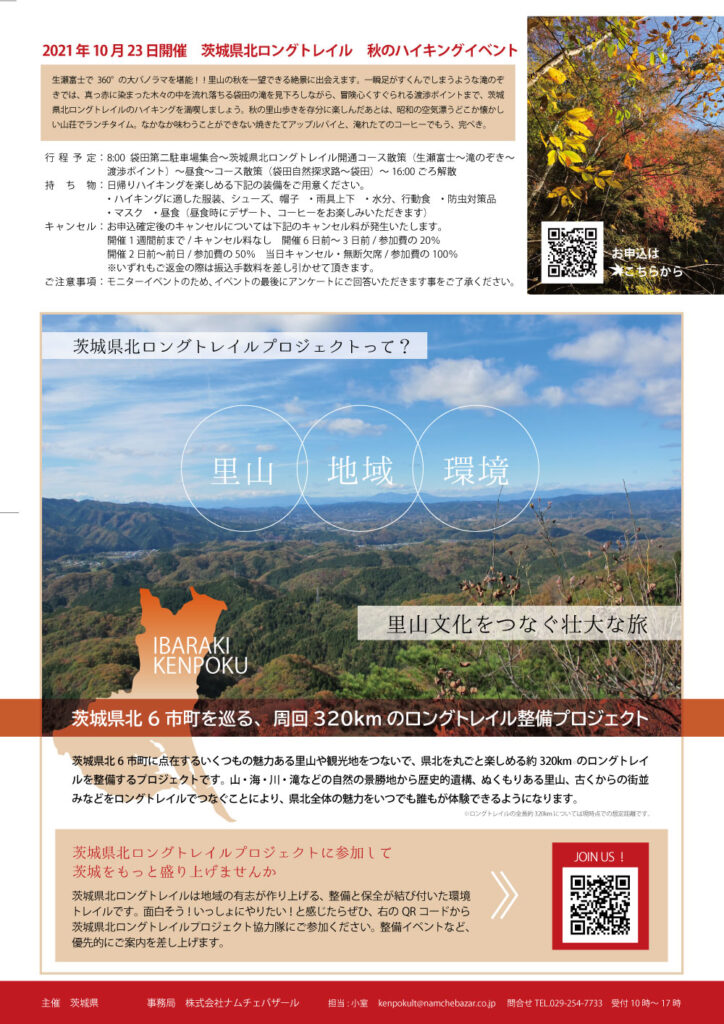 この投稿文は次の言語で読めます:日本語(Japanese)